Our Markets
First National Bank Building
TXI Riverside Cement Plant
Nuclear
Since 2003, PVS Structures has fabricated more than 20,000 tons of Safety Related (NQA-1) structural steel for a variety of customers across North America. At PVS Structures we understand that proper documentation, traceability and M&TE are as critical as the fabrication itself, and we pride ourselves as being one of the best in the world in this discipline. Just ask our customers (and their audit teams).
Department of Energy River Protection Project
Department of Energy River Protection Project
Client: Bechtel National
Hanford, WA
Supplied 2,500 tons of NQA-1 safety related steel for the River Protection Project Laboratory Building.
Commercial
PVS Structures has been in the commercial steel fabrication market for over a century, and we have vast experience and expertise in projects large and small, ranging from event centers, sports stadiums and casinos, to hotels, hospitals and retail outlets.
NREL Research Support Facility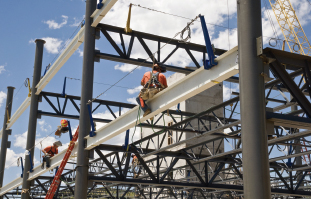 Client: Haselden Construction LLC
Golden, CO
Striving to become a model for building efficiency and net-zero energy design, the 222,000-sq.-ft NREL Research Support Facility (RSF) in Golden, Colo., identified and addressed issues of building sustainability on multiple scales.
The perimeter columns are recycled natural gas pipe harvested from fields in Louisiana. Now rather than extracting fossil fuels deep underground they are the literal pillars of strength of a building supporting the effort to minimize the impact of human life on earth through research and development. One of those developments at NREL led to the invention of the transpired solar collector, a steel panel used as part of the exterior cladding on the RSF.
Union Pacific Railroad Worldwide Headquarters
Creighton University Soccer Stadium
One Steamboat Place Condominiums
Industrial
Though PVS Structures has participated in the industrial market since the early 1900s, the company expanded its focus on large, complex industrial projects in the 1980s. Alaskan North Slope work, along with various coal, gas and other projects throughout North America, kept PVS Structures busy through the 80s and beyond. Activity reached new heights in the mid to late 90s with large projects in China, India and the Philippines, solidifying our status as a true global steel supplier. Our strength lies in managing sizeable, multifaceted projects, and our history in high seismic adds value as we tackle these industrial jobs.
Williams Energy Gas Plant
TXI Cement Plant
Mayo Environmental Partners
Power
Our power work stretches back to the early 1900s, starting with gas and coal plants throughout the Midwest. One of the more exciting projects in our history was the Quezon project in the Philippines during the late 1990s.
Los Angeles Department of Water & Power Haynes Units 7 & 8
Quezon Unit 1
SMUD Power Project for Utility Engineering
Bridges
PVS Structures has been involved in bridge construction since our earliest days in the late 1800s, with work ranging from Department of Transportation highway spans to railroad projects. From coast to coast and for more than a century, PVS has built bridges that are part of the great American landscape.
Our company's enduring strength lies in our dedicated workforce comprised of skilled shop craftsmen, engineers and project managers. We provide quality workmanship, on-time delivery and unmatched value and are proud to call some of the country's biggest and most progressive bridge owners our clients.
Angleton Sub
Tower 55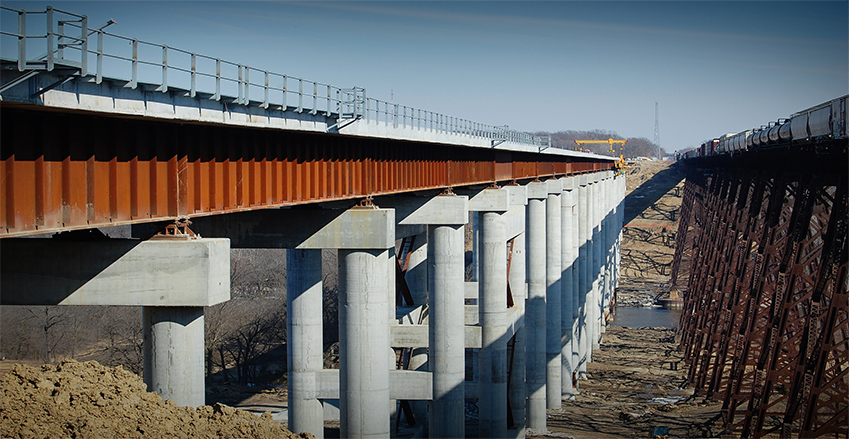 Track Turnouts
Closely connected to our bridge projects, our portable temporary turnout design is utilized by capital program work groups to clear mainlines regardless of existing track infrastructure.
Our temporary track turnouts:
Reduces the need to tie up sidings or hold the mainline overnight or during off-hours
Establishes nightly or off-hour tie up locations nearly anywhere
Minimizes on-track distances traveled
Reduces risk of equipment collisions
Increases production and decreases project duration
Installation Process
1) Install pre-plated switch ties
2) Install turnout rails
3) Install point selection leap frogs
PVS owns the perpetual, exclusive, worldwide rights and licenses under its Patents and Patents Pending to manufacture and distribute the Temporary Track Turnouts.
PVS Structures does a good job for us with the information they provide and the manner in which they provide it. This is a major reason why Kiewit Power can be more selective with whom it includes.